Locally Owned & Operated
Gutter Guys of Middle Georgia, LLC can best be described as something like the culmination of an American Dream.
Business ownership has been a goal for Brett since he worked at his parents' TCBY as a teenager. But more than that, it is the opportunity to build something that could potentially be passed down the family lineage, much like a number of other local Middle Georgia businesses. Brett has a passion and knack for constructing and engineering solutions in many disciplines. Gutter systems happen to be a trade that he has experience in and excels. Brett & Jessica work together to share their passion of helping people with their community by offering a no nonsense gutter system protection solution at a price point that will not break the bank.
Meet Our Team of Gutter Experts
Brett Clark, Owner/Operator

---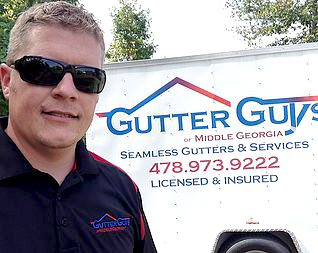 Brett Clark was farm raised out of central Virginia and moved to Florida after high school with aspirations of becoming a professional motorcycle mechanic. But, he changed directions and joined the U.S. Air Force in February of 2001 as an aircraft avionics technician, moved to Middle Georgia and planted roots. He left active duty in 2006, while taking on a part-time role with the Georgia Air National Guard and began working on his Bachelor's degree through Macon State College. He graduated in December 2009 with a degree in Business Administration and Information Technology, while concurrently accepting a civil service position in logistics with Robins AFB. Since then, he has completed his Master's degree in Aeronautical Science in 2015. He also earned his Georgia license as a public adjuster in 2011, where his focus was on storm damage to housing structures, but awareness of public adjusters is not strong in Georgia, and he felt he would be better able to help his community in a different capacity. As it worked out, that capacity is Gutter Guys of Middle Georgia. Brett's experience in seamless rain gutters is just what the customer ordered and his attention to detail coupled with his high regard for customer satisfaction has driven him to become very proficient and skilled at the trade. Brett is responsible for operations around the greater Warner Robins area.
Brett and his family of six reside in Bonaire. He and his wife of 15 years, Jessica, proudly raise their children and work hard to instill the same, if not better, morals, ethics, and beliefs as with which they were raised. They believe Middle Georgia is a great place and atmosphere to foster this mission and look forward to the opportunity to serve it!
Jessica Clark, Office Manager

---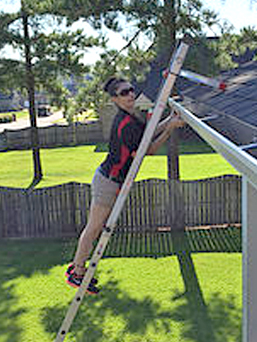 Jessica Clark hails from Leesburg, Florida and moved to Middle Georgia along with her husband, Brett, in December 2001. She has worked office management for KEG Realty, store management for OSI, Inc. and Maurice's, and most recently as a lead teller for Wells-Fargo. She brings a wealth of knowledge and a very organized desk to the Gutter Guys of Middle Georgia team.
Our customers are our top priority and Jessica will ensure you know and are treated as such. Our customers can rest assured that they will receive topnotch customer service not only when their gutter work is being completed, but from the moment they establish contact with us!
Jessica can often be seen on the jobsite assisting with installation, repair work, cleanings, or even showing up for the quote. Her working knowledge allows her to ensure the customer receives both the answers and the information they really need (and deserve)!
Logan Clark, Sales Representative

---
Logan Clark, son of Brett & Jessica, has been working alongside Brett since he was 14 yrs old learning & performing all the laborious tasks that are presented to the gutter technician. Once licensed, Logan spent about 8 months working for a local BBQ business where he learned about workplace diversity, customer service, punching a timeclock, workplace turnover, and the late night aspect of the food industry. Logan is currently a senior at Veteran's High School in Bonaire, GA. He is in training to take over a majority of the job quotes. With his experience nearing 4 years, Logan's working knowledge and team resources will allow him to ensure that our customers' needs are not only heard, but adequately addressed as well!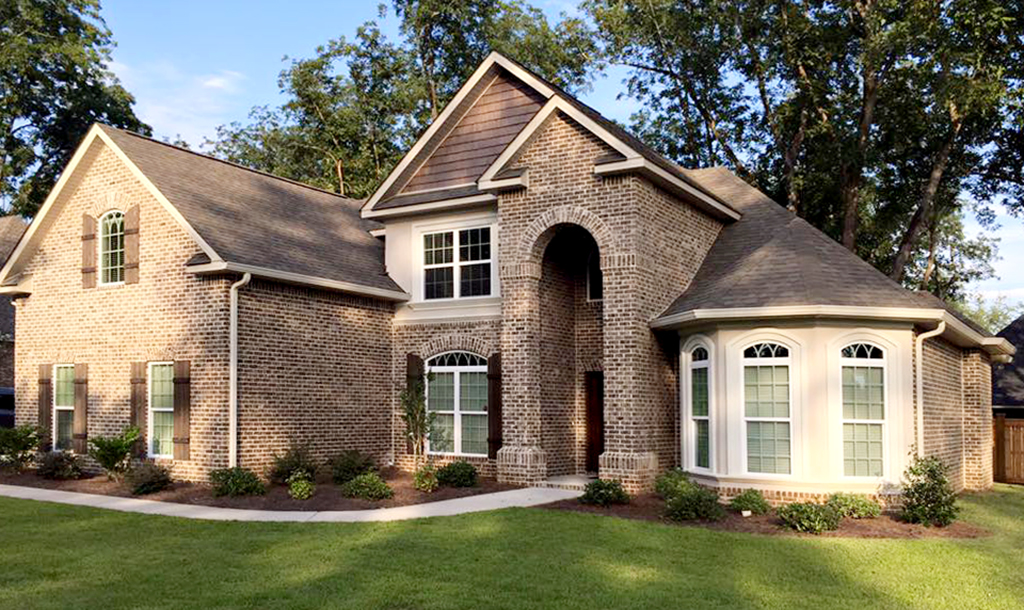 Beautiful Seamless Gutters for Your Home
Call us today at (478) 973-9222 for a free estimate. Our seamless gutters are produced on site to ensure proper fitting for your home.