Keeping your gutters clean is essential. We provide cleaning and maintenance services for your gutters.
---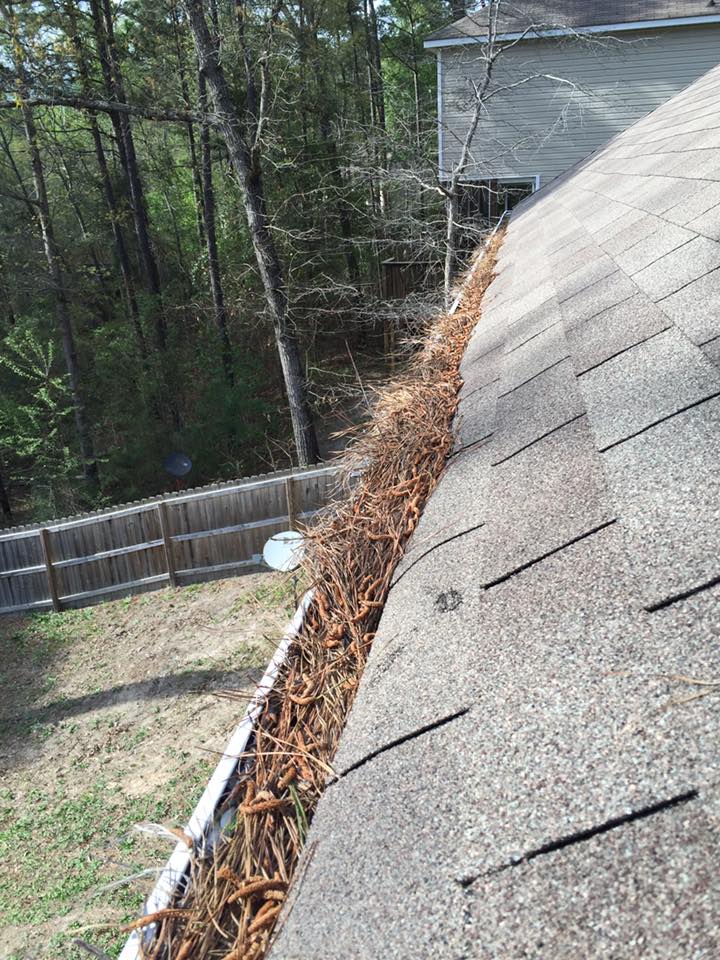 Our services include inspection and repairs of leaking, sagging, or broken gutters. We will also clean your gutters at a very reasonable cost. Just remember that if the water is coming out of your gutters from anywhere other than the down spout outlet, it is not right and we can fix it!

---
Why is Servicing Your Gutters Important?
Few people realize that gutters are vital to the long-term health of their home. Inadequate drainage of rain water can damage the foundation and infrastructure of your home and erode your landscaping. The cost of installing new gutters or fixing damaged gutters is small in comparison to the potential cost in home repairs caused from persistent water damage.
Installing new gutters as well as performing simple gutter repairs can often prevent most issues, but your gutters should also be maintained and cleaned regularly. This is where the Gutter Guys of Middle Georgia can help. We are experienced professionals and provide a wide variety of gutter services for customers in the Warner Robins area.
Residential and Light Commercial Gutter Services
Complete Gutter Solutions Design & Installation
Specialize in Diagnosis of Problematic Gutter Systems
Custom Gutter Fabrication
Gutter Protection / Guard Installation
Gutter Cleaning & Inspection
Water Drainage Solutions
VIDEO DEMONSTRATION
Gutter guards (aka covers, protectors, screens) have quickly become popular in the residential and commercial property improvement market. Home owners and business owners alike should take a serious look into the benefits of having them installed. There are multiple reasons to have the gutter guards installed. The primary reason is to keep them clog-free and allow your gutters to operate as designed. This does not completely eliminate the need to check and service the gutters, but it does reduce the frequency considerably. We don't need to tell the risks associated with cleaning your gutters (or the cost incurred paying someone to do it for you), so you can see the immediate benefit realized there as well. Then, besides the initial reason for keeping clog-free gutters, the leaves, twigs and other detritus clog up the gutters providing a perfect place for molds, spores, ant beds, roach breeding grounds, and other pests which can cause major damage. Lastly, it simply is a good financial investment as it will save you money from the frequency of having to service, protecting your structure keeping your gutters working, and add value to your home or office.
Visit our YouTube Channel for more Video demonstrations